Spa & Wellness Resort
Grand Hotel Callao
Created for your comfort and relaxation, with the best facilities, set in an 1,800 m2, spacious & luxurious Mayan culture theme.
We have pools with jets, whirlpool, waterfall, massaging jets, sauna, spa, foot spa, steam room, relaxation room, cold room, Jacuzzi, floating aria and cold tunnel.
Spa: 15€ per day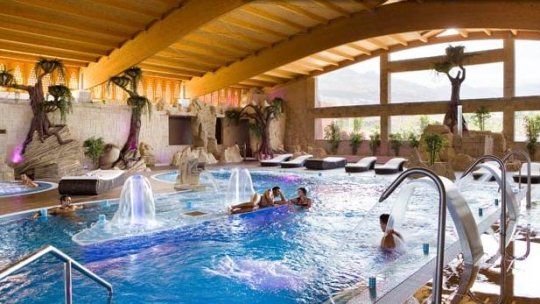 Gym: 5€ per day
You can choose between a wide range of facial and body treatments for health and beauty
Special Offers:
Tuesday's only:
"Grand Hotel Callao"  Sup€rspa Day
Spa 1: was 45€ Now: 25€
Full Day includes: Spa + Circuit + Lunch + Pool
Spa 2: was 20€ Now: 12€
Includes: Spa + Gymnasium
Spa 3: Price:35€
Includes: Spa Circuit and welcome massage offer!
The following treatments are available are available, please contact us for details.
MASSAGE:
Aromatherapy Massage 
Aloe Vera Massage (Hydration & regeneration) 
Massage au Chocolate 
Aromatic Candles Massage
Volcanic Stones Massage 
Therapeutic Massage 
Swedish Masssage
Anticellulite Massage
Facial Cranial Massage
SCRUBS:
Exfoliation with Cocoa
Exfoliation with Sea Salt
Exfoliation with Caviar
Exfoliación with Chocolate
WRAPS:
Seaweed body wrap
Aloe Vera body wrap
Wildberries body wrap
Steam Cell wrap
Chocolate wrap
FACIALS:
Facial Express
Facial Cleansing 
Facial Moisturizing
Facial Purifying
Facial sensitive skin
Facial anti age
Facial for Men
MANICURE & PEDICURE:
Manicure
French Manicure
Spa Manicure
Pedicure
French Pedicure 
Spa Pedicure
WAXING:
Eyebrow waxing
Upper Lip waxing
Armpit waxing
Bikini Line Waxing 
Brazilian Waxing
Half Legs Waxing
Full Legs Waxing
Arm Waxing
Back Waxing 
Body (Torso) Waxing 
Additional information
| | |
| --- | --- |
| Ticket type | Gym, Spa, Spa 1, Spa 2, Spa 3 |